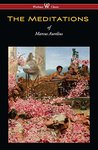 The Meditations of Marcus Aurelius
by
Marcus Aurelius
My rating:
3 of 5 stars
This was Aurelius' diary. He introspected on Stoic philosophy and especially the behaviors of a good person: integrity, willpower, quietude, and self-focus. I strongly identified with many of his thoughts and feel the content of the book was worth reading it.
My first main issue with the book are more that it needs an editor. Because it was his diary, the content lacks organization and focus. Somewhat ironic that a book about discipline is so lacking it in the writing.
The other main issue with the edition I chose is the lack of references. It probably would double the 100 pages to get an appropriate amount of footnotes. The George Long edition,
Thoughts of Marcus Aurelius Antoninus
is what I probably should have read. The downside of it, though, is footnotes on why Long chose the translations he did. That's not a big deal.
View all my reviews